Watch a FREE 3 minute video & find out why YOU ARE A MIRACLE. It's a special celebration of YOU!


Get the Fabulous Life You Always Wanted!
Media
As guest experts, Judith & Jim have been interviewed on over 3000 television and talk-radio shows including:
Oprah
The View
The O'Reilly Factor
48 Hours
The Daily Buzz
MSNBC
CNN
Canada AM
Good Day Atlanta
Northwest Afternoon
Good Day Oregon
They have been interviewed for and published by hundreds of newspapers and magazines including:
Wall Street Journal
Boston Globe
Los Angeles Times
USA Today
Chicago Tribune
O
Family Circle
Gioia (Italy)
Redbook
Cosmopolitan
Playboy
Manner Vogue (Germany)
London Sunday Times
Glamour
Men's Health
Vogue
Bride's
Mentor Magazine (Australia)
Woman's Day
Parents Magazine
SF Chronicle
Best Life
Ladies' Home Journal
Bridal Guide
For 5 Years Judith & Jim were columnists for Today's Black Woman.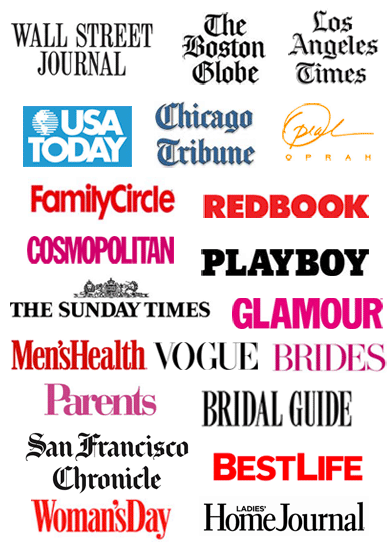 Forever On My Who-To-Call List
As a television producer it is always a pleasure to work with Judith & Jim. You know when you book them on your show that they will bring so much more to the segment than a producer can ever hope for! They will forever be on my who-to-call expert list!

Erin Saxton
Producer, The View
You Guys are the Best
Naturally I put your interview on the front page, you guys are the best!

Your biggest EuroFan,
Costantinos Koulis
Chief Editor, Noizy Magazine, Greece
Count on Them
Judith & Jim are a sound-bite machine you can count on!
Tonya McRae
Producer, Lifetime Television
Nice and Easy
You two are easy. I like easy.
Ronn Owens
Radio Host, KGO/San Francisco, CA

These Two are Made for Broadcast Media
Outstanding! Sensational! High Energy! Audience generating! These are only a few of the characteristics that adequately describe my five-year radio experience interviewing Drs Judith & Jim. These two are made for broadcast media. In my 27 years on radio, interviewing some of the greatest news makers, I've never had such a demand for return appearances as we have had for Judith & Jim. The depth of knowledge these two possess provides for the phenomenal success we have had with them! Don't take my word, put them on the air!
Mildred Gaddis
Host Morning Drive Talk, AM1200/WCHB
They're So Easy and Fun to Interview
Judith & Jim are two of the best guests I've ever had on my show. They are intelligent, warm, articulate professionals who have a down-to-earth yet profoundly life changing message. I've booked them on my show five times now and they always generate lots of terrific calls. And they're so easy and fun to interview.
Paul Gonzalez
Radio Host – UBNetwork

Extremely Knowledgeable
You guys are the TOP! Very flexible. Extremely knowledgeable and you speak in "Joe Lunchbucket" terms. We like that. No, we LOVE that!
Barbara Ferguson
Radio Producer for Jack "One Eyed Jack" Jackson, WMAY, Springfield, IL
Interviewers Dream
The Judith Sherven-James Sniechowski duo are an interviewers dream! They are an unbelievable combination of charm, credibility, and credentials. After one show with them I persuaded them to do a five-part series for the Wisdom Network and it has received extraordinary viewer feedback.
Corinne Edwards
Host, Book Tours, Wisdom Television

Ideal Television Guests
Judith and Jim make talking about relationships FUN again! They are candid, thought-provoking, and animated — ideal television guests.
Rebecca Webb
Television Co-Host, AM Northwest, Portland, OR
Our Experts For Over Three Years
Judith & Jim have been our monthly relationship experts for over three years. Why? Because our audience loves them. They are funny, personal, and above all they care passionately about everyone having the best relationships possible. I can't say enough about how good they are.
Bob Castle
The Jay & Kevin Show KDRK, Spokane, WA
Media Pros
Judith and Jim are media pros! They have passion for their message and fantastic on-air chemistry. I learn something new every time I have them on!
Jill Spiegel
Host, The Jill Spiegel Show WFMP, Minneapolis, MN
We Need More Experts Like You
Thank you so much for being my guests. My producer LOVED you, as did the other military spouses we spoke to. We need more experts like you in the world!
Jacey Eckhart
Host, The Jacey Eckhart Show
With Ease and Care for My Audience
KCBQ, San Diego, CA I've had Judith and Jim on my show 6 or 7 times with 2 more shows already lined up. They talk about money and relationships, money and weddings, money and self-esteem — you name it — with such ease and care for my audience. And they're such fun to talk with, I always look forward to the next time they're on.
Gary Goldberg
Host, Money Matters, America's longest running syndicated daily financial talk show
Deliver What They Promise
Judith and Jim delivered what they promise – a fast paced, fun, and informative segment.
Jan Hickel
Guest Coordinator, Good Day Atlanta, WAGA, Fox 5
Practical Tips That Repair Broken Relationships
Delightful, entertaining, witty, upbeat and charismatic…Presenting Christian principles through their message, Drs. Sherven & Sniechowski share their experiences and provide practical tips that repair broken relationships. I highly recommend Drs. Sherven and Sniechowski for all media programming.
Renee Trudell
Senior Producer, Woman to Woman, Lutheran Ministries, Missouri Synod
Entertaining and Exciting
Interviewing Judith and Jim is a breeze. They are consummate media pros and know how to provide great information while also being entertaining and exciting. My audience loves them!
Peggy Pattison
Host, The Empower Hour, WJJG, Chicago, IL
Never Any Holes in the Conversation
Drs. Sherven and Sniechowski are ideal media experts. Their knowledge about relationships is wide and deep so there are never any holes in the conversation. And they tell great stories and even make me laugh. I've had them on several times and will again.
Armin Brott aka "Mr. Dad"
Host, Positive Parenting KOIT, San Francisco, CA
Spiritually Sound Knowledge
Drs. Sherven and Sniechowski's offer couples spiritually sound knowledge on how to strengthen their commitment and build on their differences. If I'd had the pleasure of interviewing them a few years earlier, my husband and I wouldn't have blamed our problems on our different backgrounds. We could have learned how to combine them to build a stronger love and to help form a long-lasting relationship.
Pat Bridges
Host, WLTJ/WRRK, Christian Radio, Pittsburgh, PA
---
Personal Fact Sheet
SCHOOL:
Judith – BA English, UCLA, 1965
Jim – BA Radio and Television, University of Detroit, 1963
Judith – PhD Clinical Psychology, California School of Professional Psychology, 1977
Jim – PhD Human Behavior – Psychology and Philosophy, Ryokan College, 1990